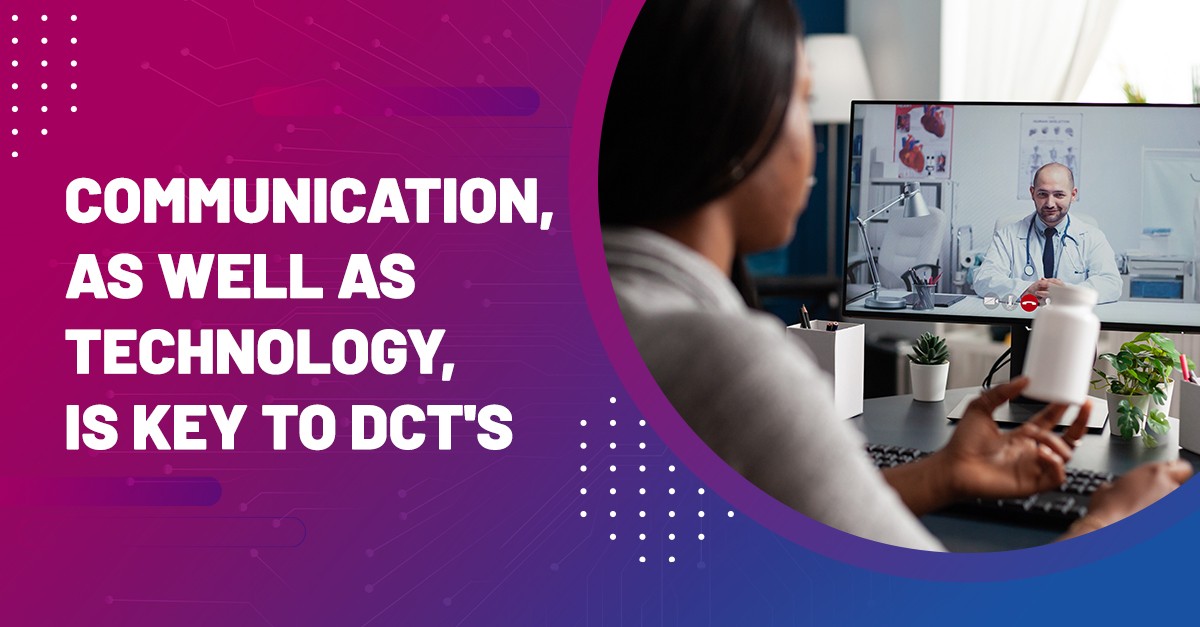 Communication in DCTs is key
February 7, 2023 | Process
Whether it's with wearables, apps or websites, patients are increasingly interacting with digital technology during decentralized trials (DCTs).
DCTs enable CROs to reach patients in their homes and other remote locations. DCTs reduce patients' travel times, transport costs and social anxiety.  By being more engaging they also have the power to increase patient retention. 
However, technology alone can't make decentralized trials truly engaging. Communication in decentralized trials also plays a vital role. Let's look at why innovative technology has to be combined with great communication to increase clinical trial retention rates.
Enhancing patient retention
Keeping patients engaged in clinical trials has always been challenging. For example, Recent studies show that up to 40% of patients drop out during clinical trials. These high attrition rates are costly.
A BMJ study calculated that the cost of a patient in a clinical trial was US$41,413. Dropouts are not only expensive – they also have the potential to risk statistical significance in the patient cohorts necessary for regulators. 
Decentralized trials can address these retention challenges by engaging with patients in innovative ways, and addressing key challenges. So when considering patient-centricity. we believe that it's just as important to focus on communication as it is on technology 
Addressing patient dropout
A recent article by the CRO mdgroup identified poor communication as one of the four main reasons for patient dropout, stating, 'Effective communication and documentation can become difficult and complex, especially if language barriers also play a part.' 
'What's more, when patients feel unclear about their role in a study, confused by jargon, acronyms or protocol language, or anxious about what to expect at each stage of the clinical journey, they're far more likely to drop out of the trial entirely.'
Apps and websites can certainly employ technology to tackle the lack of engagement often seen in traditional trials. For example, emails and push notifications can be automated to deliver messages at the best time. These can alert patients to take an action such as writing a diary entry, following a medical instruction, or recording a medical outcome.
Consider how you communicate
However, these innovations need to be combined with clear communication. So how can you employ technology to ensure your message is well-received, understood, and correctly acted upon?
Here are some questions to consider:
Is the messaging right for the reading age of the patient?

Is it culturally appropriate for the individual and community?

Is it accessible for patients with disabilities?

Are multi-language voiceovers and subtitles necessary?
Understanding each patient can help you deliver better communication. For example, using an app to deliver questionnaires can allow you to collect useful data about each patient's language preferences, schedules, and routines.
Using this data, you can customize communications so that each patient follows the study's requirements and feels motivated to participate. Communications that are sensitive to the cultural preferences of different groups are also likely to widen diversity.  Great communication can improve your ability to meet submission deadlines.
Reporting outcomes
Electronic clinical outcome assessments (eCOA) are an important part of decentralized trials. If you have a printed clinical outcome assessment you wish to convert into an eCOA, adapting language is not a straightforward task. 
Take instructions for example – your printed COA may include phrases such as 'circle your answer' which needs to be replaced with language that accurately describes an action required on an app, website or wearable device. And, of course, accurate translations should reflect this.
With decentralized trials, we understand that technology may be taking up a lot of your thought processes. We hope we've shown in this article that next time you're considering how to employ technology to improve clinical trials, you make sure you're considering communication just as much.
Don't hesitate to contact us to discuss your communication in decentralized trials further!